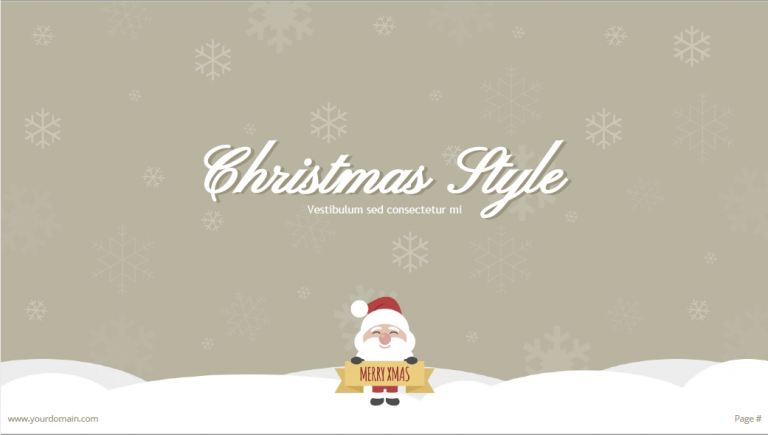 Christmas presentation theme
This is a nice Google Slides presentation for the Christmas season. We thought it could be easily  used as a greeting card to send to your friends, family and co-workers, but it can also be used to tell any story or convey any idea related to Christmas. It could also be used for school presentations during the holiday season. It has a childish aesthetic.
Christmas presentation template  is a set of 13 slides, ready to use,  colored by a 3 soft and creamy tones palette:
Tana #B9B4A0
Marzipan #EBCE80
White #FFFFFF
Just like all of the other free presentations in our portfolio, none of this could be possible without the help of our friends:
FlatIcon.com: A search engine for 16000+ glyph vector icons. Includes a Photoshop plugin to insert icons directly into an artwork
Gratisography.com: Free, use as you please, high-resolution stock photos for personal and commercial projects.
Google Fonts (Open Sans, Trebuchet): whose moto is -> "Making the web more beautiful, fast, and open through great typography."
Freepik.com: More than a million free vectors, PSD, photos and free icons. Exclusive freebies and all graphic resources that you need for your projects.
SlidesPPT: That's us. We just put everything together so you can enjoy our templates.
As we did with their "free" resources, you have permission to do with our presentations whatever you please, but as everything is released under Creative Commons, so at least you must keep the credit slide so everyone can know who did what. And it's not because of this license….we should credit everybody for their work, shouldn't we?
We would more than happy if you help up by liking us here or there, so more people can get to us. And we encourage you to share and share.
We invite all of our users to show us what they did with our base templates. If you feel proud of your final presentation you can send it to us and we will publish it here on our site.
There is a how-to section on the site to help you understand how to use the presentation templates, but no special knowledge is needed. You just can add your content by clicking in the placeholders. Also, if you have a Google account you won't need any extra software as these presentation templates are fully compatible with Google Slides, but you also can download them to use it in Power Point, Keynote and LibreOffice Impress.
Our Christmas free presentation template is:
Fully editable. You can change any element in the presentation to adapt it to your needs.
Childish look / Christmas theme / Soft Palette
Examples of charts and graphs, maps and devices placeholders.
Many example slides (13 at least)
From Google Slides UI you can export, copy or download this free presentation template.
READ THIS FIRST! You don't need to request special permissions to use this template. Just follow these steps.