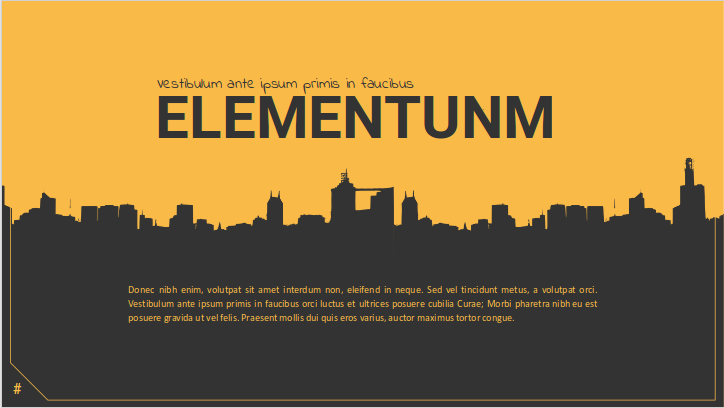 Elementum presentation theme
Elementum is an urban design presentation template for Google Slides that might be used under many scenarios: from branding purposes to corporate or commercial environments. The unbelievable set of icons taken from flaticon.com can be edited and replaced to meet your needs.
This set of slides also included sections with charts, device placeholders and graphics to better explain your ideas.
Color palette consists in 3 colors:
Night Rider (#333333)
Koromiko (#f9ba48)
White (#ffffff)
You can do whatever you want with this presentation as long as you keep the credit slides, where all the attributions required to use this free slides are specified. Also, all our work is released under Creative Commons License, so maintaining this recognition is a must. Next, you need to use a Google Slides account to edit the slides online or download it as a Power Point file. For the beginner, this is as easy as following the simple steps in the  how-to section.
This designs wouldn't be possible without:
We hope you like our Elementum presentation template. If that's the case, please SHARE! You can also help us to keep growing by following us in our Facebook Fan Page and/or Google+
Our Elementum free presentation template is:
Fully editable. You can change any element in the presentation and customize it the way you prefer
 Modern look / Urban look and Feel / Any purpose
Examples of charts, graphs  and devices placeholders.
More than 15 slides.
Compatible with Power Point, Google Slides, KeyNote, …
From Google Slides UI you can export, copy or download this free presentation template.
READ THIS FIRST! You don't need to request special permissions to use this template. Just follow these steps.